What it is: Vetiver, also known as Vetiveria zizanoides is a perennial grass native to India. The  name Vetiver is actually native to Tamil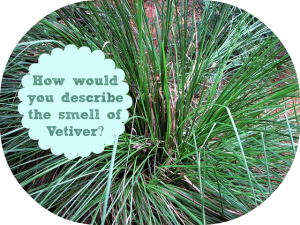 language. As a grass, it can grow up to 1.5 meters high, its stems are tall and its leaves long, thin and rather rigid.  Vetiver is closely related to other fragrant grasses such as lemon grass and citronella.
What it smells like: Vetiver is mainly cultivated for its fragrant essential oil which is distilled from its roots that are 18 to 24 months old. Vetiver oil, which is amber brown and rather thick, is a complex oil containing over 100 identified components.
The odor of vetiver oil is described as deep, sweet, woody, smoky and earthy. Like sandalwood essential oils, the odor of vetiver develops and improves with aging.
The smell can vary significantly depending on where the grass is grown and the climate and soil conditions.

Vetiver, is a green, slightly sharp note with hints of earthiness to it, reminding me of a grassy field on a dry, warm day. 
Tips: Sometimes it is spelled with the "t" on the end  (vetivert) and also sometimes as vetyver. If you are looking for an alternative to vetiver oil, try vetiver soap!