What it is: Dust is fine, powdery particles, made up of dirt, or waste.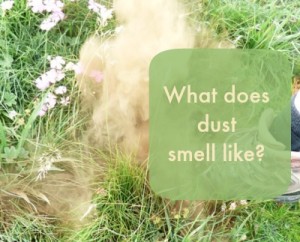 It can be found on the ground, on all surfaces and even in the air.
What it smells like:  It is quite hard to explain the smell of dust.  Sometimes all you can say is that it smells dusty, which clearly does not help.
It has a unique smell.  If we consider a metaphor, instead of an actual description, you could almost explain the smell of dust by saying it is like years of forgetfulness and neglect.
Tips: Did you know that many people crave dust?  People love the taste of dust and can often find themselves wiping it off window ledges and corners of the house.